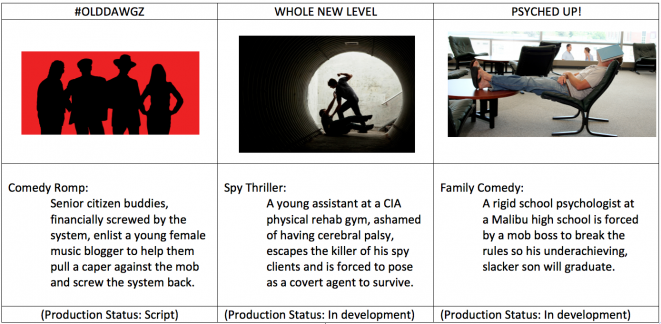 Whole New Level Pitch Deck
(Coming Soon)

Psyched Up! Pitch Deck
(Coming Soon)

Bruce Gordon Media is in the process of securing financing and distribution for the company's multiple feature film projects, which are in various stages of development.
Bruce B. Gordon is specifically interviewing Executive Producers with a proven track record of working with A-List directors, as well as talent such as Jennifer Lawrence, Robert De Niro, Al Pacino, Morgan Freeman, Dustin Hoffman, Michael Douglas and Jack Nicholson for a comedy romp about senior citizen buddies, financially screwed by the system, who enlist a young female music blogger to help them pull a caper against the mob and screw the system back. The screenplay for #OldDawgz is written by Jonathan and Tom Fahn.  Gordon will collaborate as a producer.
Executive Producers are also being sought for Psyched Up! – a family comedy about a rigid school psychologist at a Malibu high school, who's forced by a mob boss to break the rules so his underachieving, slacker son will graduate.
Further, the company is very keen to find Executive Producers with a successful track record of working with first-time feature directors, as Gordon has expanded his short film, Whole 'Nother Level into a millennial-cast, spy thriller script.  His feature, Whole NEW Level, is about a young assistant at a CIA physical rehab gym, ashamed of having cerebral palsy, who escapes the killer of his spy clients and is forced to pose as a covert agent to survive.  Gordon will direct his feature screenplay and collaborate as a producer.
The short was selected for the 2013 Festival de Cannes
Court Métrage/Short Film Corner, and it has garnered
further international festival selections and awards.